1. Classic Cowlneck Sweater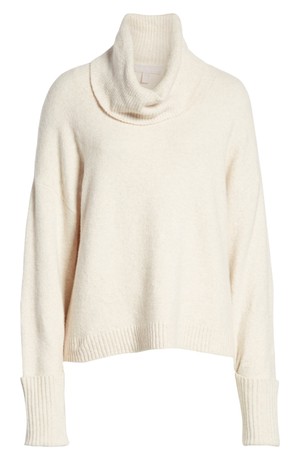 Recommended: Chelsea28 Cowl Neck Sweater
Fun fact: I always thought this was called a cow-neck sweater. Another fun fact: getting words wrong as an adult is not as cute as a 4 year old.
A cowl neck sweater is one of the most classic looks you can bring into your fall / winter wardrobe. For fall, this sweater can get by without a jacket or a coat because it's warm enough to wear alone. In the winter, you can pair this baby with a classic camel coat and you've got a timeless look all winter long. If I had to tell you to get one sweater, it would be a cowlneck sweater in either ivory or black. Keep it neutral and you can pair with with any jeans, leggings, or pants.
One note: there are a lot of different options when it comes to a cowlneck sweater. I prefer a classic, slightly fitted sweater that hits at about my waist band / hips. This season I've seen a lot of oversized cowlneck sweaters as well, which I think pair wonderfully with leggings. Be sure to figure out which look you like best and make sure the option you chose is the style you're looking for!
2. Leather Tote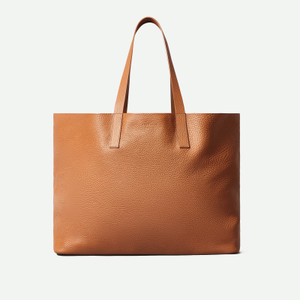 Recommended: Everlane Soft Leather Day Tote
This might not make sense but let's do it anyways: I find myself gravitating towards an easier handbag in the fall for the sole purpose of convenience. Everything starts to fast forward at this point of the year and our lives get a bit more messy. Fun, but messy you know? I need a bag that I don't really think about changing out everyday because it can go with most of my outfits. I tend to toss my bag at our front door when I get home and grab it as I'm running out the door, so for me a tote that can handle everything I'm carrying these days is perfect. It can hold my iPad, my makeup pile, my water bottle and snacks, and my phone, wallet and keys. This tote is a literal no-brainer for me. It goes with most of my outfits, carries absolutely everything I need to go from work to wherever the day takes me and bonus: it's soft leather so it can get mushed / bent and it won't bother it one bit.
Just full disclosure: I own this bag which is why I am recommending it to you. I absolutely love it and I've had it for about a year already.
3. Camel Sweater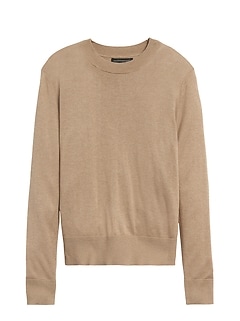 Recommended: Banana Republic Silk Cashmere Relaxed Sweater
(I have this sweater in grey and camel. It fits true to size and I have the medium in both. #noregrets)
This trend has been around for a few years now that I'm hesitate to even call it a trend. It feels like a new classic to me now because I find myself reaching for this look multiple times a week. There is just something so rich and classic about this colour and in sweater form, it's just all of my PSL dreams coming true. A camel sweater can pair with LITERALLY ANYTHING. Like throw some option at me and I'm gonna tell you — camel sweater. Dark denim makes this sweater look classic and preppy, especially with a button down layered underneath. Black denim and boots give this sweater an edgier vibe, especially paired with a puffer jacket or moto jacket. Pair a camel sweater with faux leather leggings and sneakers for a trendy look. A pleated midi skirt or satin slip skirt and a camel sweater is basically a recipe for compliments. Pair a camel sweater with white jeans and people will be asking you for your autograph.
It's the antidote to your wardrobe quandaries. You want to look fancy? Camel sweater. You want to look timeless? Camel sweater. You want to look trendy? Camel sweater.
4.  Basic Black Sweater
Recommended: Design Lab Waffle Knit Sweater
At first I thought, I don't need to tell anyone to buy a basic black sweater. But then I remember that I am the exact person who needs to be told to buy a basic black sweater. A basic black sweater (basic in colour, not style) is going to be a go-to for so many outfits and also when in doubt, wear black. It's a classic look and honestly when there are days are cold and gloomy a no-brainer sweater is a must-have. Pair it with distressed denim for an edgier look, black denim for a sleek monochrome look or leggings + sneakers for a casual vibe. There is no wrong way to wear a black sweater.
5. Puffer Jacket
Recommended: 
H&M Padded Puffer Coat
This is another one of those trends that has become a staple in recent years. I love the look of a puffer but also the functionality of it. I'm always feeling a chill and I, for one, am glad that this sleeping bag jacket is fashionable. Now puffer coats come in all sorts of colours and styles so let me break it down for you. While this is just my opinion, I'm pretty sure it's 100% correct.
I would say if you are going for this look, keep your colours classic. Either go with a black or a navy for a dark colour, or ivory or grey for a lighter hue. I would suggest staying away from the neon or primary colour options in a puffer. I'm not saying it can't be done well, but going neutral keeps your look chic without a lot of effort. Also, I don't want to look like a puffy yellow school bus marshmallow all winter long. But you do you babe.
I always think it's best to keep your coats neutral so that you can wear them with everything without looking like too much is going on under that coat. If you go with a grey hue, try a cropped puffer jacket. With a light colour and a puffy jacket, it's going to be a lot of look so going with a cropped style allows for the other parts of your outfit to break up the puffer shape. With a black puffer jacket, you can get away with the full length because of the darker hue, it creates a more flattering line than with a lighter colour.
6. Neutral Scarf
Recommended: Etereo Textured Ribbed Wool-Blend Scarf
This piece doesn't need much description as it's more of a functional piece that has a side of form. Everyone needs an extra layer of warmth in the cooler months, so a scarf is an absolute must. I like to have a few simple scarves lying around in grey, black and/or camel because you can toss them on with anything and you're good to go. For fall, you can toss one over a sweater dress and for winter it becomes another layer you'll want and need. (PS: my favourite scarves are the oversized / blanket scarves! They are kind of a pain to walk around with if you're inside somewhere and need to take it off but so is a coat you know?)
7. Black Denim
Recommended: Madewell Button Fly Black Denim
I absolutely think a pair of black denim is a must for most months of the year. From August to April, I wore this pair over and over and over. So while I recommend black denim in general, I absolutely recommend this Madewell pair. (In my experience, you can size down in these)
Black denim can go one of two ways depending on the rinse. If it's a faded black denim, you're going to have a more casual, laid back vibe to your outfit. If it's a dark black rinse, this is going to lend to a more sleek and tailored look.
8. Bold Sweater
Recommended: TOPSHOP Spot Knitted Sweater
So this is a loose suggestion but I really think in order to break up the simple and the same, especially when we are deep in sweater season, it's nice to have a wild card in your closet. Now, I picked this cute and fuzzy cropped striped sweater because I loved the mix of colours and texture. But for a wild card, you could choose a bright pink or a multi colour striped sweater. Or just a wild over the top kind of sweater. Anything to break up the routine is nice to have around.
9. Teddy Jacket
Recommendation: VERO MODA Teddy Jacket
This one might make you say 'weird flex but ok Becca' OR you're saying 'yes! I've been wondering about this trend!" So if you are of the latter camp, yes this trend is for you! If you like soft and warm jackets, then this is your jacket. So let me say this — there are A LOT of teddy jackets out there in the world. Some are good. Some are well…garish. I hate to say it but it's true. So you've got to pay attention to the style of the jacket, the colour of the 'fur' and the fit.
Going into this post I would say I love a cropped teddy jacket but you guys — my mind has been changed. I tried this jacket on from Vero Moda last weekend and my mind was blown, my acne was cured and my posture straightened. It's so cute and I love the fit which is basically non existent. Soft? Check. Warm? Check. Doesn't in any way touch my body? Check check check. So this jacket is an oversized look, so if you are going to go with this look, keep the rest of your outfit sleek — think black leggings or jeans and a white or black top. Add some sleek booties and you've got a really cool look.
If you like the cropped look, make sure the fabric isn't too chunky. Teddy jackets can feel overwhelming a lot of times and especially if you are petite. Find one that gives a bit more interest to the silhouette instead of just looking like a cotton ball.
10. Knit Beanie
Recommended:
Auxiliary Floppy Cuffed Beanie
This accessory is the same with the scarf notes — necessary but make it fashion. We need accessories that keep us warm in the fall and winter so might as well make sure they are fashionable. Right now a beanie is super on trend, so my favourite take on this trend is a simple black beanie. You could also go with grey or camel, depending on what you wear the most in your closet or what matches your coat the best. If you want a pop of colour in your wardrobe, a beanie is a great way to pop that colour. Again I would say find a colour that matches best with your coat / coats and what you like to wear the most but red always works well with camel and black. Or you could go VERY on trend and hit it with a neon yellow beanie. Then no one can say they didn't see you coming. My favourite place to shop beanies is always Artizia.
11. Mockneck Sweater
Recommended: Paper Label Retrograde Ribbed Cotton Sweater
I know it seems like a mock neck and a cowl neck are so similar, but a mock neck lends to a more modern look versus the classic look of a cowl neck. I like to have a few mock neck sweaters around for when I don't need the full warmth of a cowl neck. I love this one from Paper Label and especially in a grey hue. (It also comes in a sage mix and a camel mix) You can wear this sweater with jeans and pumps, booties or over the knee boots. Or you can pair it with high waisted yoga pants and some cool sneakers. Through a black beanie on with this look and a puffer for a complete outfit.
12. Layering Camisole
Recommended: Abercrombie lace camisole
A layering camisole is wonderful to have year round but I love a dark hue for fall to pair with blazers or cardigans. They are also nice to have around if you just need one more layer. I love the look of lace on the top of the camisole because it makes it feel a bit more expensive looking. Pair this camisole with an open cardigan and dark denim for a classic look.
13. Half Zip Pullover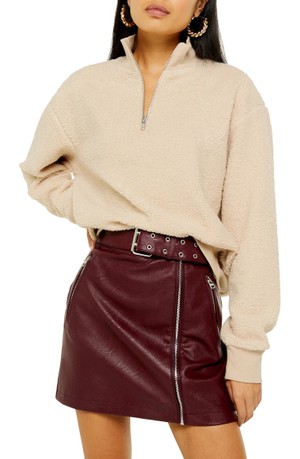 Recommended: Topshop Fleece Zip Pullover
This trend has been around for a few seasons and I absolutely love all of  the zip up pullover options right now. I think the youths started it (thank you fellow kids!) but let's be honest — the real VIPs of the half zip pullover are dads everywhere. So let's give a shout out to the dads out there wearing half zip sweaters since the 90's like it's always been in style. Your dedication has been noted.
You can pair this top with basically anything — think of it has a suped up sweatshirt. Denim, leggings, a denim mini skirt. The sky's the limit! I would just suggest to go with a casual bootie or sneaker to really round out the look.
14. Floral Dress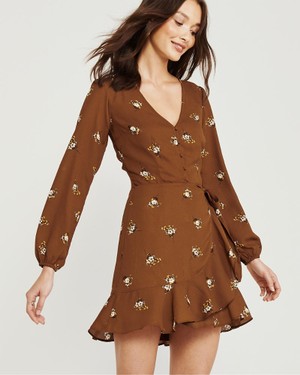 Recommended: Abercrombie Floral Dress
I love a floral dress for fall, especially in a romantic dark floral print. I would say find one floral dress for fall/winter that you just love and wear it over and over again. May it be a midi/maxi dress or a mini dress like the one I've listed above — you can find a staple and wear it all season long.
With a shorter floral dress, you can really let this type of dress shine just by changing out your shoes. Booties make it feel casual, black over the knee boots dress it up a bit, heels and tights creates an office friendly look and sneakers gives it a nice weekend vibe. That's 4 different ways to wear one dress without even reaching for other accessories. My only advice? Find a floral pattern / colour theme that matches your shoes and handbags best. For me this camel / tan colour works perfectly because it can work with black and brown shoes / handbags.
15. Camel Coat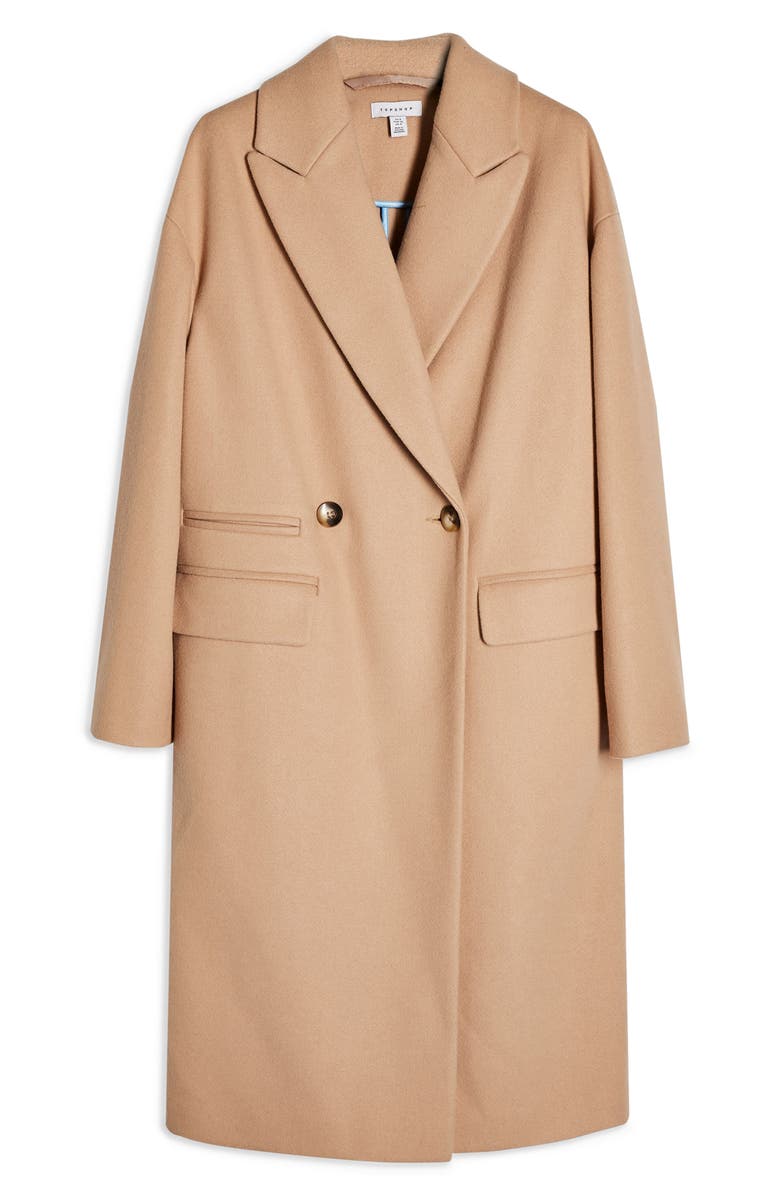 Recommended: Topshop Camel Coat
You know that meme of Meryl Streep yelling? Well mine would be her yelling 'get a camel coat'. A camel coat as reached peak trend here in 2020 and they are going to be your best bet for an everyday, classic coat. As I've said before, camel can go with just about anything — black, brown, neutrals, colour – I really can't think of anything it won't pair with.
16. Classic High Rise Denim
Recommended: Madewell High Rise Skinny Denim in Hayes
So this may feel like a no-brainer BUT what denim to buy is my number one question I constantly get. Well, I have to say if you are going to get one pair of denim for fall let it be a classic darker skinny jean. I actually picked up this exact pair from Madewell because I don't have a super classic high waist dark pair of denim. And I'm so glad I picked this one up because this is my go-to look for fall. I love a high waist because you can pair cropped sweaters with this for a really modern look.
17. Faux Leather Leggings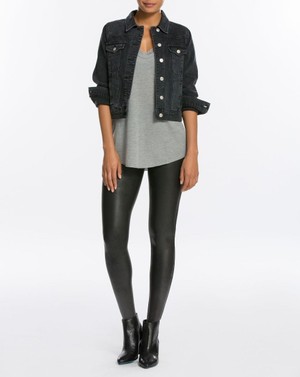 Recommended: Spanx Faux Leather Leggings
If you haven't jumped on the Spanx leggings train and you are wondering if they are worth it — I am here to tell you that they are! I actually have two pairs and I wear them on repeat during the winter months. Here's why: they are a nice mix between a yoga pant and a dress up pant meaning you can DO ANYTHING with this look. I've heard a lot of people say — I didn't think you could go casual with this look but you guys — ABSOLUTELY you can and should! I love wearing faux leather leggings with sneakers, it's such a good vibe. But you'd can also dress them up with heels or booties too.
I like to pair them with a bit of a longer tunic or sweater so that it for the most part covers my booty. And if you are wondering about panty lines, I wear these seamless undies here to minimize panty lines as much as possible. Probably when I walk you can see a line around my thigh in the back, but I can't see it so I don't care.
One more note — I size up in Spanx and find that this is true for most if you have any bit of curve. I wear the medium in the faux leather leggings for more wiggle room and so that it's not just organ crushing tight.
18. Slip Skirt
Recommended: Topshop Matte Slip Skirt
If you have to buy one on trend item for 2020, I would say go for the slip skirt. This trend has been showing up over and over each season and I just love it. This look is perfect with a sweater (the mock neck or cowl neck) or can be paired with a graphic tee or sweatshirt for a casual vibe. You can wear booties, heels or sneakers with this skirt, depending on which style you prefer. I can't recommend this trend enough!
I love this Topshop option here — definitely stay true to size. It's not too tight which is so nice and the matte finish creates a modern look versus a satin finish.
19. Wide Brim Hat
Recommended: Amazon Fashion Wool Hat
Basically all of my recommendations I own or would like to own, but this one specifically I have and love. It took me a second to get used to wearing a hat out and about, but I truly love this trend for fall and into winter. It can level up an outfit so fast and it's such an inexpensive item to do so with. I have this exact one from Amazon and it has held up just as well as other ones I've bought from Nordstrom.
PS: The camel colour I find goes best with most of my outfits but I do love a wide brim black or charcoal hat as well! You can't go wrong with either colour.
20. Everyday Cardigan
Recommended: Lord & Taylor Cashmere Open Front Cardigan
For an everyday option, I love having a throw on and go cardigan for the season. I think grey would be the best colour to go with this fall because it can work with browns, blacks and most fall colours. This one from Lord & Taylor and although on the pricey end, it is a perfect choice because it's loose and you can pair with dresses, a camisole and jeans, or a tee and faux leather leggings. A true worker bee in your closet that you'll wear for years to come and worth the investment. Plus I love having an option of something neutral to grab just in case I get cold somewhere which is always.
21. Faux Suede Jacket
Recommended: BB Dakota Faux Suede Jacket
This open drape front jacket is a winner when it comes to pairing with multiple outfits. The shape of this jacket is the show stopper so it's an easy jacket to toss on with a simple top (black turtleneck or camisole) and black denim for a really sleek look. When you have a piece that speaks for the entire outfit, the rest of your look is a minor detail.
22. Oversized sweatshirt
Recommended: H&M oversized sweatshirt
This may seem out of the norm for my style, but this sweatshirt is what I wear when I'm not online. I love an oversized look — be it a sweater, a jacket, a tee or a sweatshirt. Especially paired with — you guessed it! Faux leather leggings or any type of legging or skinny jean. Pair an oversized sweatshirt with faux leather leggings and sneakers or a vintage pair of denim (think Levi's 501) and  loafer slides for a relaxed but cool girl look. I'm telling you though — this sweatshirt will give you life from now until March. if Netflix and Chill was a piece of clothing, it would be this.
23. Distressed/Vintage Denim
Recommended: Levi's Distressed 501
Okay so this one is a mix of two must haves into one: distressed denim OR vintage cut denim. This pair of Levi's mixes the two together, but I would say go for distressed, vintage or a 2-in-1 like shown here. Why? Because you want to have a wild card piece of denim to shake things up a bit come winter. Sure you could go with a print or a wide leg, but I find those to be less 'essential' and more of a showpiece. (Plus wide leg can be tricky to style! Essentials are easy!) I love a high waist straight leg look paired with cropped sweaters and ankle booties. You'll want these jeans to hit you right at the ankle for the most flattering look.
24. Sweater Dress
Recommended: Madewell Sweater Knit Dress
As always a sweater dress is one my to have list for fall and winter. A sweater dress is for when you have to dress up but don't want to. It's just an oversized sweater and you don't have to wear pants, so you can see why it's an essential for me. You can pair this with black tights and booties or you can go bare legged and over the knee boots for extra credit. I would say stick with a camel or a black to be able to get the most wear out of it for fall. (Burgundy is nice too if looking for a little pop of colour!)
And, that's a wrap! I would love to hear your suggestions on fall and winter must haves! Happy shopping ladies.
As always, don't forget to subscribe to LiveLaughLearn.blog to stay up to date and follow on Instagram @LiveLaughLearn.blog
XOXO.
B.